*Updated 28 Dec 2011*
The Day After Boxing Day 2010
Another highlight of the NYC trip.
The day where I explored Ridgewood, New Jersey on my own.
Majority of the metro and train services were suspended
after the blizzard on Boxing Day.
Which meant that it was going to be hard making our way to most places.
As such, Buddy Wee didn't want to go anywhere, except to stay in the hotel.
Having travel almost half the world and spending 20 odd hours flying,
I certainly didn't want to spend the day in the hotel.
And so I decided to make my way to New Jersey on my own
despite the Buddy's objections.
Despite the metro and service disruptions,
getting to New Jersey wasn't that difficult.
Luckily, there was still a metro service to Madison Square Gardens.
From there, I took a short walk to the train station
where luckily enough, there was a train service to Hoboken Terminal in New Jersey.
On the ride to Hoboken Terminal, I was keeping my fingers crossed
that there would be a train service to Ridgewood.
Arrived at Hoboken Terminal after a short ride and
thank god, train service to Ridgewood wasn't disrupted.
Arrived at the picturesque small town of Ridgewood after 45 minutes.
It was a change from the madness of Manhattan.
Traffic was minimal and the entire town was almost covered in snow.
Spent a good two hours exploring the town, taking in all the sights.
Snow capped houses, the huge real Christmas tree in the middle of the town,
quaint little shops decked out in Christmas decorations, all of these which I know
I will never get to experience or enjoyed once I leave.
Bade goodbye to the little town after I was done exploring.
Headed back to Madison Square Gardens with the thought of catching a hockey game.
Alas, tickets to the game were fully sold!
Since there wasn't much to do and Borders was just next door,
I decided to spend my time doing what I love most; reading!
It was already evening by the time I was done with Borders.
Took a stroll down to Times Square and spent the rest of the evening
walking along the snow covered pavements of Times Square before
heading back to the hotel and calling it a day.
And that pretty much sums up my little adventure for this trip.
I'm finally half through my NYC travelogue,
another 6 more days and I will be able to end this travelogue.
Praying hard that I will be able to complete it before the year comes to an end.
♥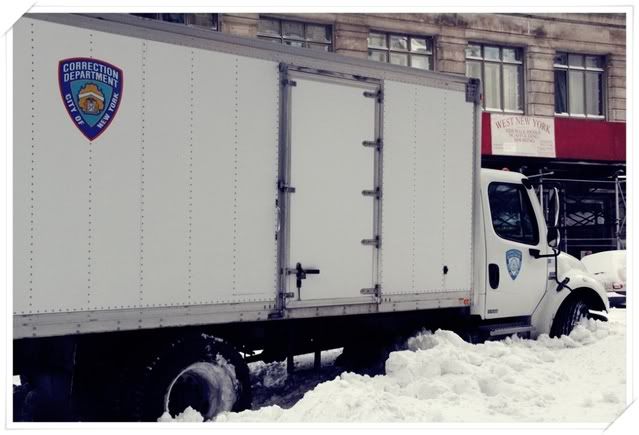 The morning after // A slippery walk down to the metro station // Start of my adventure //
Arrival at New Jersey // Hoboken Terminal // Start of the ride to Ridgewood //
Interesting station name // Lovely sights en route to Ridgewood // Arrival at Ridgewood //
Taking in the beautiful sights // Real Christmas tree in the town // To the other side of the town //
Back to Manhattan // Madison Square Gardens // Ticket booth // Time at Borders //
Hello Kitty's decor // A stroll down Times Square