Here's another super long overdue post. Pardon me for the late updates; am always feeling so tired by the time I reached home after work that I want to do is to just sleep or laze around. Nowadays I have to wake up at 7.00 a.m. to start preparing for work as compared to the past when I can sleep in till 9.00 am or 10.00 a.m before I dragged my lazy ass off the bed.
All right, better not bored you guys with all the boring details. Here's what I was up to towards the last of my 3 weeks break at the end of September and start of October.

30.09.2009
Finally got the chance to meet up with Shulin aka Jaslin aka Kayla. It's been so long since we met up, the last time we met was some time back in August when she passed me the Longchamp bag that she got from Frankfurt.
It's never easy for us to meet up since she's always flying around. We finally got the chance to meet up on this particular day. No concrete plans were made as to what we were going to do that day; everything was impromptu.
First, it was to catch the movie "Phobia 2". Having watched "4Bia" last Halloween with the dudes, I was pretty interested to watch "Phobia 2" despite remembering how scared I was watching 4Bia last year. The feeling was totally different this time. "Phobia 2" didn't turned out to be so scary at all; in fact I found it pretty funny and certain parts were so lame that the both of us actually laugh out loud.
After the movie, it was some window shopping before we decided to head to KBox for a KTV session. The two of us got a little restless halfway through and we started singing really old songs like "Lemon Tree" by Tarcy Su. What ensued after that was a bout of endless laughter and continous photo-taking of the TV screen.
Anyway, by the time we finished, it was almost 10.00 p.m. and the both of us were so hungry. Headed over to Youth Park for Botak Jones and then it was home sweet home after that.
*Pardon the quality of the photos; it was taken with our mobile phones since we didn't have our camera with us.*
02.10.2009 - 03.10.2009
The first part of my last weekend of my 3 weeks break was spent with the Javanese Heartthrob. He had been nagging and complaining that I've yet to go on a trip with him and so we decided to head over to Batam for a short break.
We were supposed to take the earliest ferry over but the heartthrob overslept and so we ended up taking the 10.40 a.m. ferry. After a 45 nap, we finally reached Batam. The last time I was there was when I was in primary school so I totally had no recollection of the island.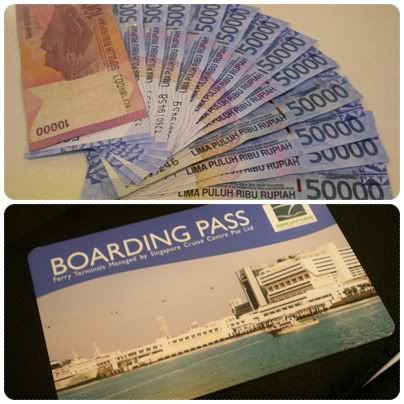 I'm half a millionaire!!! How I wished this was Singapore Dollars!
A nasty surprise awaited us upon reaching Batam. The Heartthrob was stopped at immigration while I was cleared. The next 15 minutes seemed like eternity while I was waiting outside. There I was in a foreign island and I didn't know anyone there. And the fact that I was the only female in the waiting area didn't make me feel any better. Finally after 15 minutes, I saw the Heartthrob walking out and only then did I managed to breathe.
Till now, we still do not know why he was stopped by the immigration guys since they didn't asked him for any money. Our only conclusion was that they must have thought that he was some banker on a business trip since we saw the immigration guys pointing at his LV passport holder and after that he was stopped.
It seems that the Indonesia government was trying to stop bankers from bringing the Indonesian's out of Indonesia. When the Heartthrob's brother-in-law travels to Indonesia for work, he is reminded to dress casually with all his business suits packed into his suitcases.
Whatever it was, I was really glad that he was all right. I wouldn't have know what to do if anything had happened to him.
Spent our time swimming and lazing around checking into Harris Resort. Decided on Harris Resort because the Heartthrob's friend knows that people there and she was able to get us a good deal for the stay. We were supposed to stay in the new wing but because Jelaine overslept, we ended checking in on our own and ended staying the family wing. New wing or family wing, it doesn't matter cause we were just there to relax, enjoy ourselves and have a good time.
Jelaine and auntie came to pick us up after our swim and brought us on a tour of the island. Do you know that Batam is actually made up of 7 islands and all the 7 islands are actually linked together? Well, we didn't know that even the Heartthrob who has been there for so many times.
Jelaine brought us to the Balerang Bridge which is a chain of 6 bridges of various types that connect the islands of Batam, Rempang, and Galang, giving the system its name. However, we only travelled till the 4th bridge and then we did a U turn as there's nothing much to see. Some of the islands are pretty small as Pulau Tonton, it took Jelaine less than 3 minutes to drive through it.
After the island tour, it was off to Jelaine's go kart circuit for some go karting. Frankly speaking I have never tried go karting before so I was a little hesitant at first but after the first round, I was hooked!!! It really so much fun and both the Heartthrob and myself had so much fun trying to overtake each other. For your information, Jelaine is the owner of the go kart circuit and she's actually a professional go-karter. She's a Singaporean but she's based in Batam now.
After the go karting session, we headed back to the resort for some bowling action before picking Jelaine's dad, Pak Heng, and then it was off for a seafood dinner at one of the kelong. By the time Jelaine sent us back to the resort, I was all ready to just go to bed.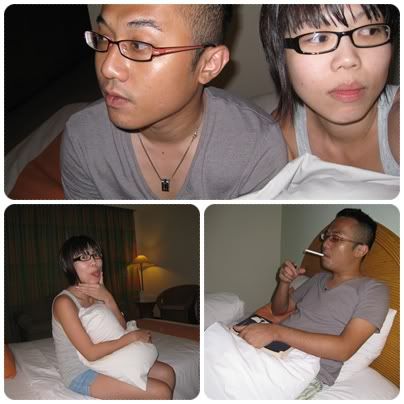 Some camwhoring before I headed off to snoozeland while the Heartthrob worked on his video montage for one of his colleague's farewell party.
After a good night's sleep, it was rise and shine. Proceeded for our 3 hours spa session after breakfast. The spa session consisted of aromatherapy massage, hot stones massage and a body scrub. At the end of the session, the both of us were feeling pretty relaxed but the both of us agreeded on one thing. The Hot Stones massage sucks!!! The stones were so hot that we were so uncomfortable!!! And to think that it was supposed to be relaxing.
Back to our room to pack up our stuff after the spa session, checked out of the resort and off to catch the ferry and head back home. Back to Singapore, the Heartthrob had to rush back to his office for his colleague's farewell party while I went back home to pack my stuff and prepare for the another staycation with DS at Copthorne King.
Finally it's done. My eyelids are getting heavier and heavier with each letter that I'm typing. Will post the photos of my convocation soon; most probably by next week. It's going to be a super duper busy week at work with our Inaugural Dinner & Dialogue session happening this Friday at The Ritz Carlton. With Mr. Teo Ser Luck as the Guest of Honour, we can't afford any slip up and moreover it's my first major project with the company so I can't afford to make any mistakes too.
Stay tuned for more updates and good night.