An update before I settled in the couch in front of the TV.

Met Mummy at Orchard earlier after I knocked off for some retail therapy.
Mummy called me early this morning asking me to accompanied her to Orchard as she wanted to get a clutch for Sis's wedding next month.

In the end, she spent almost $600 within 1 hour and half was it was actually spent on me!!!
She was browsing through some evening gowns when we saw this evening gown and she told me to try it on.
After trying it on, she told me that she would get it for me for Sis's wedding.

Frankly speaking, I had no intention of spending $180 on a gown which I will most probably wear it for only once.
I rather spend it on something which I will be wear it after the wedding.
Despite my objections, Mummy insisted on buying it and I gave in because I just wanted her to be happy.
At most, I will alter the length after the wedding so that I can wear it on other occasions.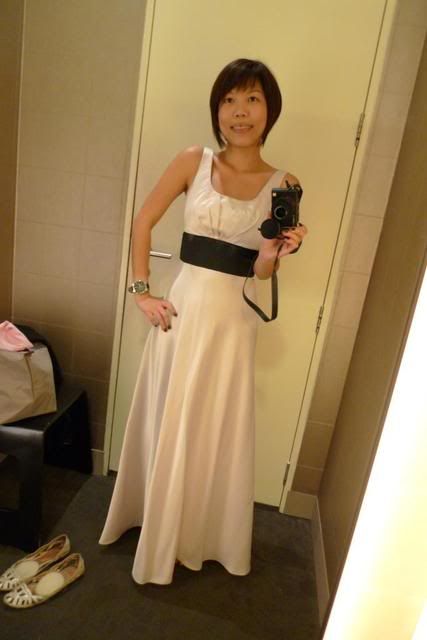 How the gown looks like from the front.
Simple design in champagne and black satin.
The black sash can be tied into a bow in front or at the back but both Mummy and I agreeded that it looks better behind.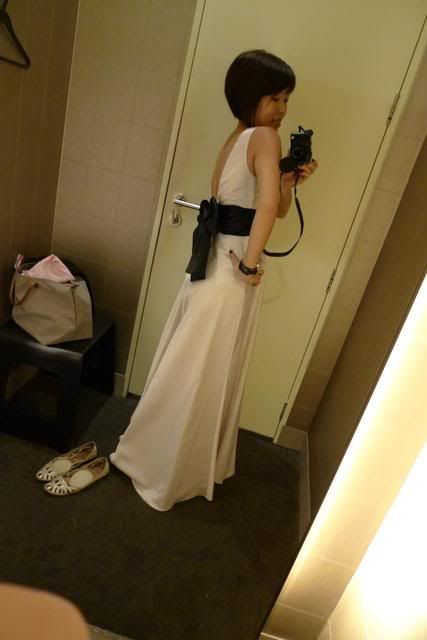 Tried taking a shot of the bow behind but I only managed to capture a side shot of it.
The design at the back was what attracted me to it.
On top of that, Mummy got me a clutch to go with the gown as well.
I simply LOVE the design of this clutch.
The pleats and the diamante was what I love about it.
Simple but classy and it matches the gown.
This is how the clutch looks when taken without flash.
This is how it looks like when taken with flash.
And it cost only $39 as compared to the $332 clutch which Mummy got for herself.
I almost fainted when I heard the price of her clutch but since she likes it, so be it.
What's most important is that she likes it because she will be the one using it.
That's all for now.

Will post the photos of the weekend escapade with the Javanese Heartthrob and the convocation soon.

Good night peeps.