I was supposed to post this entry way back in July but I was too busy with my stuff that I forgot about it and it had stayed in my draft box till now. If I hadn't gone through my inbox, I don't even know that I have not posted this entry.

Anyway, these was what I had been up to in the month of June and July. It's a pretty long entry so I shall cut down of the writing and let the photos do the talking instead.
01.06.2009, 03.06.2009 and 04.06.2009
Work, Fun Time
My colleagues had fun playing around with foam carvings for the bum-boats for the Singapore River Fest 2009. Yes, the bum-boats that you guys might have seen during the Singapore River Fest 2009 were decorated by us. And the few of us, myself, Lay Peng, Cedric and Don; we spent our time taking photos and having fun whenever we got too stress at work.
We became hawkers selling satay and when we got tired from selling satays, we started fighting with each other!! And it's very obvious from the above pics that they had a lot fun trying to "kill" me!
05.06.2009
Lunch with my lovely colleagues at Republic Polytechnic
Ever since we moved to our new office premises, I have started going for lunch with my colleagues as compared to the past. Simply because there's nothing nice to eat over here at this new building and the nearest food-court is like a 10minutes walk away and the food that is really horrible. And Republic Poly has become one of our favourite place to lunch at.
Usually we'll go over to the food-court but we decided to lunch at one of the cafe (can't remember the name of the place but it's located at Level 1. The food there is pretty all right but the service is really bad and slow. By the time Don, Lay Peng and myself got our food, Jim had already finished his!!! Which is why we are eating in most of the pics while Jim tried out his not so new mobile phone camera function.
13.06.2009
My first trip to Tampines 1
Staycation at Amara Hotel
Finally met up with my Shi Shiong of almost 10 years!!! The last time I saw him was way back in 2007 when I went over to LA to visit him. Now he's finally back to Singapore for good! Decided to pop over to newly opened Tampines 1 since the both of us had not been there yet.
We decided to have our lunch at Manpuku (the Japanese Gourmet Town). For those of you who have not been there, Manpuku is a Japanese food hall that offers authentic Japanese cuisine in a street setting. There are 10 counters offering renowned Japanese restaurants and traditional food establishments with a history of more that half a century. It's similar to Marche where you don't have to pay immediately; you will be given a card where your order will be keyed in and you only have to pay when you leave.
I settled for the Tempura udon while Shi Shiong had ramen. The Tempura udon was still all right but the ramen that Shi Shiong ordered was fabulous. Especially the broth!!! I regretted not trying the ramen but I will definitely go there and try it one of these days.
I had to leave after lunch as I had to rush off to Kay's place to meet her for a while. After that it's was off to Amara Hotel to meet DS for yet another staycation.
I simply love the pool at Amara Hotel!!! And the best part is that we had the pool to outside but it was pretty weird walking to the lift lobby after a swim because there was a wedding solemnization going on.
17.06.2009
Birthday lunch with my Twin
Met up with my Twin for our annual birthday lunch at The Heeren. We always meet the day before since the actual day is meant for our family or partner. Till this very day, I still can't believe that I have actually met someone who shares the same birthday as me (same day, same month and same year).
18.06.2009
Goodbye 27, Hello 28
This birthday was one of the happiest one that I've had in these few years. I had my good friends and DS with me.
DS brought me to Jim Thompson at Dempsey Road for birthday dinner. They serve very delicious thai food, much better than Kha at Hort Park but slightly more expensive. And the ambience was lovely. We choose to the alfresco seat cause it was pretty crowded inside the restaurant.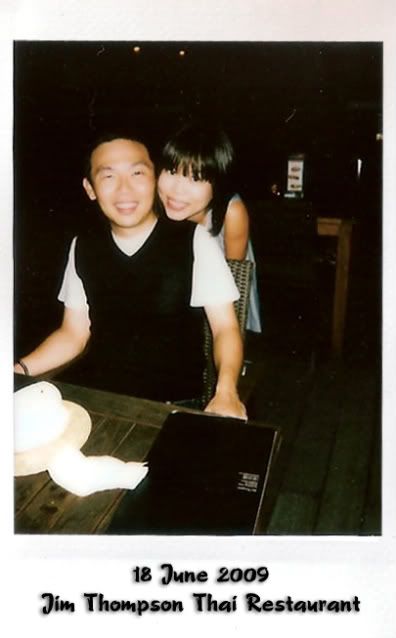 For once, DS didn't nag at me for taking photos of the food (he always says it's very rude to do that). :p
19.06.2009
Singapore River Festival 2009
Belated birthday celebrations with the Dudes
Attended the Singapore River Festival 2009 with the Dudes (Gary, Joop and Michael) and my colleagues as our company did the decorations for the bum-boats.
Headed off to Clarke Quay for dinner at Hooters after the event. The highlight of the night was the surprise by Michael. He walked out to make a call and when he came back, he was holding a piece of candle with a lighted candle in his hands. I didn't expect that at all. :)
20.06.2009
Staycation at Carlton Hotel
26.06.2009
BGT Golf Challenge and Fund-Raising Event 2009
Raffles Country Club
It was the annual gold challenge and fund-raising event to raise funds for the construction of BGT. Only managed to take the above photos before the event started cause I was busy for the whole day and I only managed to take a breather in the late afternoon. Even though it was a tiring, it didn't matter because the whole event was a success and everyone enjoyed themselves.
30.06.2009
Our 1st Durian Tasting Session
DS and I had our first durian tasting session at Geylang together. I used to love durians when I was kid but over the years, I have not tasted durian at all. When DS suggested to have durians after dinner, I was little hesitant but I decided to go for it.
It was big mistake because I fell sick for 3 weeks after that. :( Anyway, here's the first photo of DS. Not a very good photo but he doesn't like photos so I can only take candid shots of him.
04.07.2009
Staycation at Novotel Hotel
Another staycation and this time round it was at Novotel Hotel and to catch the fire-works during the NDP rehearsal.
20.07.2009
Company Gathering
We were supposed to go to Genting for our company retreat but it was cancelled due to some logistics issues and so we had a buffet and KTV session at the company instead.
25.07.2009
IKEA Tampines with Amin
Staycation at M Hotel
Woke up early on a Saturday morning and went to Tampines to meet Amin to go to Ikea to get some props for the Island Shop High Summer Cruise.
Last staycation of the month and off to M Hotel we went. However we didn't spent much time in the room because DS had a surprise for me. He actually brought me to PartyWorld after dinner!!! Why did it came as a surprise? First, he doesn't sing and second, we have never been to a KTV in these 5 and a half years. And the both of us actually sang for 4 hours till 3.00 a.m.!!! We were so tired that we fell asleep almost immediately upon reaching the hotel.
27.07.2009
Lunch at Republic Polytechnic with colleagues
Phew!!! Finally, it's the end of this lonnnnnggggg entry. Hope that you have not fallen asleep and your fingers are not aching from all the scrolling.
♥