26th May 2009
WednesdayTime flies real fast when you are relaxing in a foreign country without having to worry about work or anything else. It's our last day in Gold Coast and the feeling of knowing that we will heading off to the airport, boarding the aircraft and flying back to Singapore wasn't that great. Both Damian and myself had been so accustomed to the lovely weather in Gold Coast and the both us were definitely

NOT

looking forward to the kind of weather that were waiting for us the moment we touch down in Singapore.

But all good things will come to end so no matter how much we didn't want to come back home, we still had to.
After a good night rest, we woke up early in the morning to get ready to check out of the the resort. Since we had already finished our packing the night before, there wasn't much to do except to dump in my toiletries and cosmetic bag into my luggage. Went out to balcony for one last look of Surfers Paradise and then it's was off to the reception to check out.
Took a walk around the resort compound after we were done with the check-out procedures. All the time that we were staying at the resort, we didn't have the chance to really explore the resort so it was left till the last day. Brought my bikinis with the intention of taking a swim but in the end, my bikini didn't have the chance to see the pool.
After we were done with our little exploration, we drove over to Harbour Town for brekkie and for one last session of window shopping since we had plenty of time to spare. Our flight was at 2.45 AM (SIN 12.45 AM) meaning we have to check in at 12.45 AM (SIN 10.45 AM) which meant that we have lots and lots of time to spare.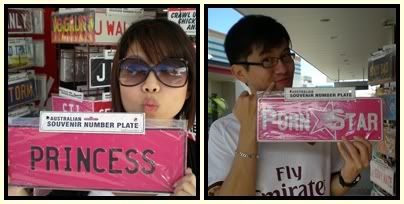 Didn't have to buy since we had already bought we wanted to the previous time when we were here, we spent our time taking photos and more photos. The above photo of the Nike Factory Store is one of my favourite. The famous bright orange Swoosh against the blue blue sky dotted with clouds.
And then Damian came up with the idea for the above photo. We were watching "Meet the Fockers" and there was this particular scene of the cute baby saying his first words. If you have watch the movie before, it shouldn't be that difficult to figure out what I was saying.
(Hint hint: starts with A and ends with E)
After spending 2 hours at Harbour Town with nothing else to shop, it was time for us to start our journey to Brisbane City. And along the way, we realized that they have a place called Tanah Merah in Gold Coast too! Actually we already saw the sign when we drove down to Gold Coast from the airport on our first night but we didn't managed to capture a shot of it and so Damian kept reminding to keep a look out for the directional sign so that I would be able to take a shot of it.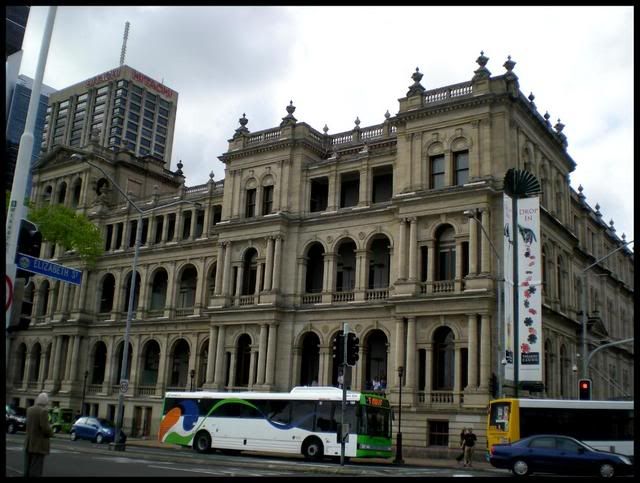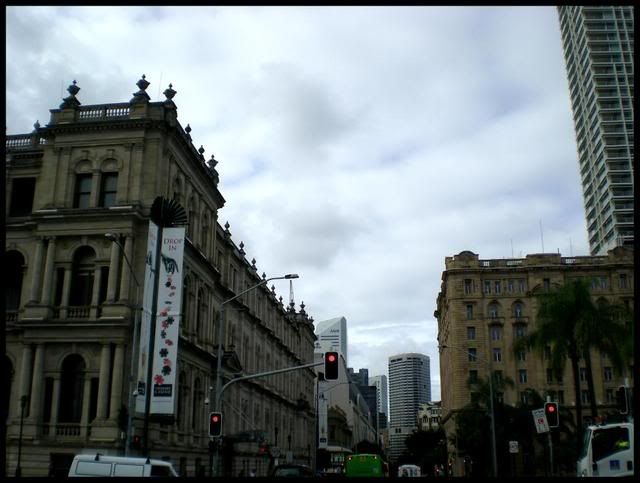 We arrived at Brisbane City 45 minutes later. Upon reaching the city, the both of remembered something not that wonderful. To find Free Parking in the city is almost the same as striking lottery! Not only that, the parking fee is super duper expensive!!! Damn...how could we have forgotten about that? We should have stayed longer in Gold Coast instead. Since parking was pretty expensive and it doesn't really make any sense to pay through our noses for the parking fee, we decided to just spent 1 hour in Brisbane City.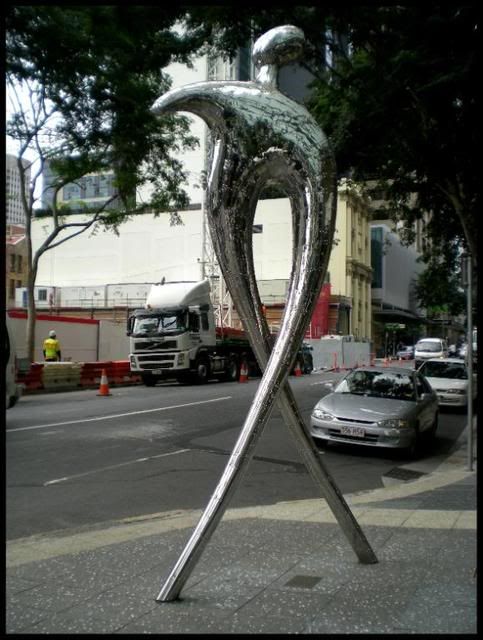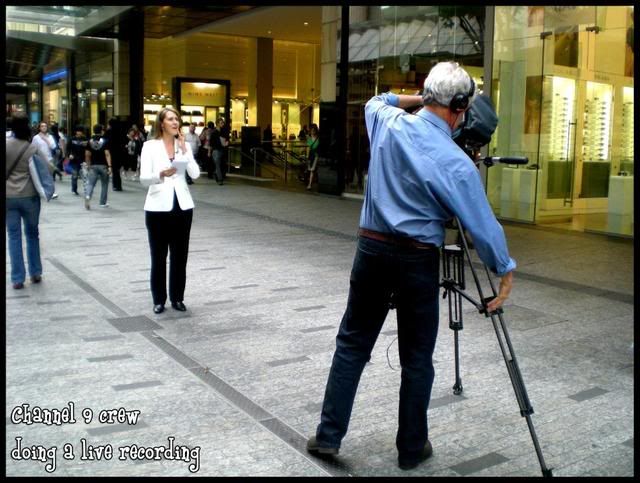 During our stay in Gold Coast, we wanted to attend mass on the last Sunday but we didn't really managed to find any Catholic church so we had to miss mass. When we spotted the cathedral amidst the high-rise office buildings in Brisbane City, we had to check it out. There's not much differences between the cathedral in Brisbane and Singapore except that in Singapore, the cathedrals or churches have pews but in this particular cathedral, they had wooden chairs instead.
Part of our original plan was to hop on the CityCat for a river ride but while watching the news earlier at the apartment, it was reported that the ride would be suspended due to the bad weather. :(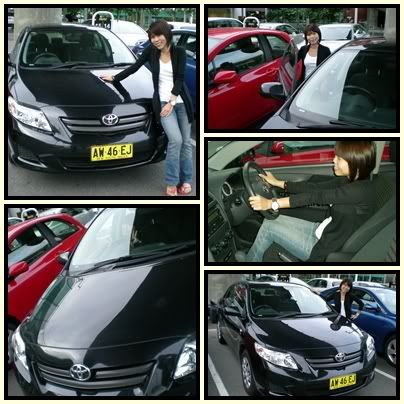 Before we realised it, the 1 hour was up and it was time for us to bid farewell to Brisbane City and began our journey to the airport. After a short 15 minutes ride, we reached the airport and it was here that we returned our rental car back to it's parking lot.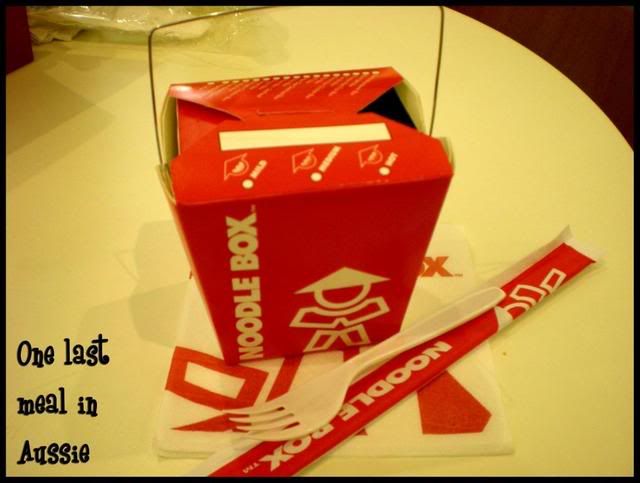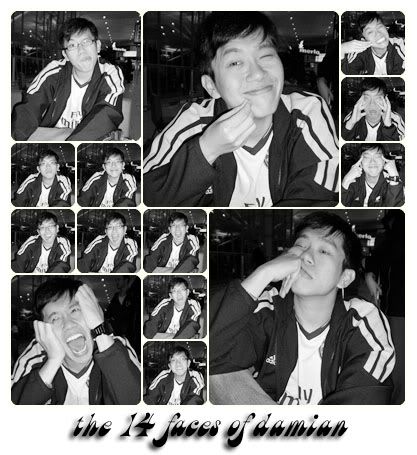 There was 9 hours more to go before boarding commenced!!! Armed with magazines, my DS Lite and Damian's camera, we started our waiting in the airport. When you have finished reading your magazines and became bored of playing games, what do you do? Damian's suggestion? To see who can come up with the most number of poses!!! And I won!!!! A little childish but hey, at least it kept us entertained.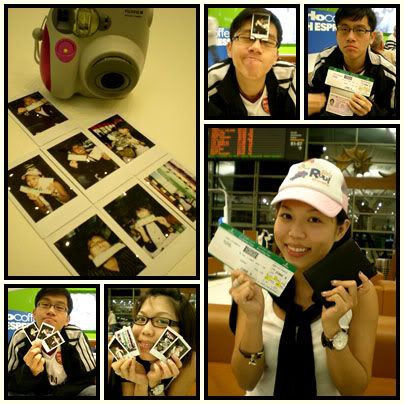 2 cups of tea and coffee later, we were done with the check-in and then it was off to the departure lounge for another round of waiting and photo-taking. After what seems like donkey years, it was time for boarding. We were so glad when our bums touched the cushion aircraft seat. 9 hours spent waiting at the airport!!!
By the time the meal service was over, our tired eyelids which had been struggling to keep open finally had the chance to rest. A restless sleep, 1 breakfast service and 7 hours later, we finally touched in Singapore and it was time for us to return to the hectic life-style once more.
**********

So there you are, the last post of my Aussie trip. I have been back for more than a month and I still missed the weather and life in Gold Coast. It's always the same when I come back from Australia. Having been to the States and Australia, I still prefer Australia. Don't ask me why because I don't really have an answer to that. Many of my friends have told me that they don't really like travelling to Australia because they find that Aussies are racist against Asians but I have never felt that way. Most of the Aussies that I have met are pretty friendly and have never given me the feeling of any racism.

Our plan next year? To head off to Melbourne and Tasmania. As for me, I hope to visit Perth again this year. It's been a long, long time since my last trip to Perth and I missed the food and my friends over there. Hopefully my wish will be able to come true.